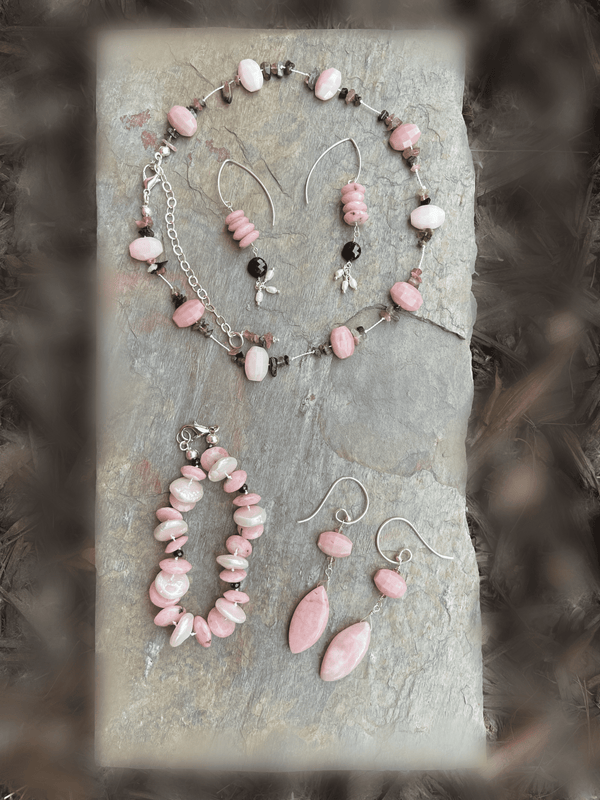 Pink Peruvian Opals - A Gift from Pachamama
Let's Go To Perú!
Do you have a travel bucket list? On my short list is a visit to a beautiful Mexican beach. We haven't done that since way before the pandemic and it's been way too long. On my longer list is Macchu Picchu in Perú. I've lived in Mexico, vacationed in Panamá, Spain and a number of Caribbean islands, but I've yet to get to that ancient city. It's also been the inspiration for our newest collection of Pink Peruvian Opal Jewelry.
Pink Peruvian opals are what's known as "common" opal. Their beauty is in their silky pink color, as opposed to the fire and flash of "precious" or "crystal" opal. The pink is a result of organic compounds in the stones known as quinones. According to folklore, this type of opal is said to be a gift from Pachamama, a goddess of the ancient Inca in the Andes who would also be known as Mother Earth. 
In this collection the Peruvian opals are paired with other gems, as we like to do. There's tourmaline, garnet, pearls, purple turquoise and black spinel. We find it a fun challenge to find other gemstones that work with opals. This necklace is a mixture of mostly Peruvian opal. Both the pink pendant and the round heishi purple beads are Peruvian. The one round bead is purple turquoise.
Pink is such a versatile color. It goes great with lots of different colors and stones. Black Spinel has a really nice shine to complement the pink and the small flecks of black you'll often find in Pink Peruvian Opals. Tourmaline goes great too. Check out a couple of the new pieces below or explore the new collection here.
May our creativity add to yours!